More Raves About Income, Anywhere!
Are you still thinking about how to earn a living from home, the road or the outback?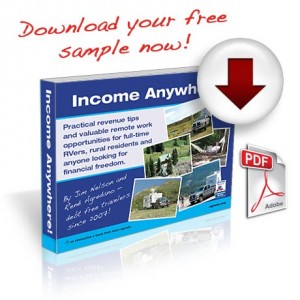 Our book, "Income, Anywhere!" is getting rave reviews from aspiring nomadic business owners and other people who want to work from home. Here's what one recent reader had to say:
"I downloaded and already read the entire book. It is a great resource and it has given me some much needed inspiration and some faith that I can do this!!"  – Facebook fan
Income, Anywhere! is packed with a ton of resources for everyone who dreams of self-employment but isn't sure where to start. The book outlines income generation methods that work for us and anyone from creatives to mechanics. Another aspiring entrepreneur recently told us:
"I can not even believe how many resources are available, I read a lot and I don't think I have ever read a book that had so much information, most books don't share information, they share stories! As I was reading it I was wishing I had found it sooner, because everyone I talk to and ask about the blogging and online stuff over the years don't have any answers or know how this stuff works (of course I ask computer people thinking they would just know, not that they do any home based computer business) and your little book answered every single one of my questions I had about how that income stream works! AWESOME!" – Kim
You can make money from anywhere if you have the desire to work for yourself, and the passion to make your dreams come true.
Download Income, Anywhere! to take charge of your own destiny today.