E-book Offers More Tips to Earn an Income Anywhere!
After hundreds of downloads and much positive feedback for our remote home based business e-book, we have given Income Anywhere! a major overhaul. Download the updated second edition below or read on for more information, and details about how to save more than 50% off the purchase price.
New and Improved Second Edition
This updated edition of Income Anywhere! is packed with proven home based business tips and hundreds of links for finding remote employment, workamping jobs, legitimate home based business opportunities and much more.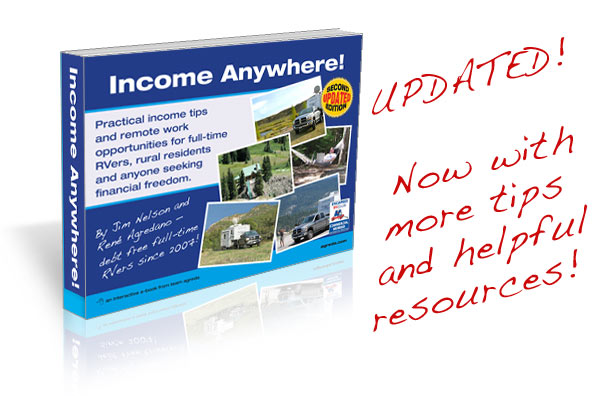 This 60+ page interactive PDF includes practical income advice and valuable remote work opportunities for full-time RVers or anyone wanting to work from home, wherever that may be. Readers will find hundreds of links to helpful resources and more recommended reading online.
Save time spent searching the internet and sorting through all the junk. We've done that for you!
Clearly categorized and presented in an easy to read format, you will find detailed information about the various methods we have discovered and developed for working from the comfort of our home, wherever we park it. Read about why we hit the road in 2007, and how we've been making a living—and living the dream—ever since.
Learn from our 7+ years as happy workampers and discover how to find the best workamping jobs that fit your lifestyle. We have also included more information about the growth of our own online business endeavors, the one business model we consider our "Plan B" and a list of nearly 50 leading home based business opportunities along with details about how to weed out the gems from the scams.
In this updated resource we've added more information about proven income strategies like:
How to get out of debt, and stay on budget
Details about affiliate blogging and Pay Per Click advertising
Popular blogging platform options and how to choose
More ways to open an online store
The benefits of developing drop-ship relationships
How to find remote employment online
Etsy and other creative or craft marketplaces
Warning signs of network marketing schemes and pyramid scams
How to identify legitimate revenue sharing companies
Even more Workamping and caretaking job resources!
Save more than 50% off!
Use the social sharing button below to reveal your coupon code for more than half off the download price. Simply click the "Share Now" button, select your social network, copy the coupon code and apply it to save on your download now!
NEW: Reduced Price 60% OFF! No Coupon Required.

Price includes free update to new edition available in late 2020, upon request.
PLEASE NOTE:
Be sure to save the PDF to your hard drive or device!
There is a limit of 10 downloads.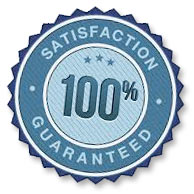 Still skeptical? Read our original e-book announcement for more information, or download the free sample chapter about starting your own business from scratch, working with drop-ship manufacturers, and how to identify legitimate revenue sharing businesses. We've even included the full table of contents so you can see what you're missing.
Did we mention our 100% Satisfaction Guarantee? If you are not completely satisfied, just let us know within 10 days of your download and we will refund your money, and you get to keep the book. No questions asked. We've never had to do that, by the way.
So, what are you waiting for?
Frequently Asked Questions
Is this book available in print? Short answer: No. The true value of this e-book is in the hundreds of direct hyperlinks to more helpful information available online.
Do I need to register? No. Registration for this site has been disabled and is not required to purchase the e-book. Simply provide your email address to receive the download link.
Why do I have to share your link? You don't. By doing so, however, you will instantly be presented with a coupon code for saving more than half off the full price.
Where is my coupon? When you click our social sharing button, a small window will pop up with buttons to share the link via Facebook, LinkedIn, Google+ or Twitter. After selecting your preferred social network that window will display your code. Copy it and paste it into the coupon field upon checkout and click apply to save.
Is my payment information safe? Yes! Payments made on this site are secured by the GeoTrust RapidSSL certificate. You also have the option to checkout via PayPal for secure payment via your account balance or credit card.
I bought the book but can't view it anymore! Save the file to your hard drive! The PDF may load in your web browser by default and there is a download limit of ten times.