WHO ARE WE? | WHAT DO WE DO? | BUSINESS BLOG | TRAVEL BLOG | CONTACT
Do you dream of working from anywhere?
Learn how you can supplement or replace your income,
while working from any place you wish.
After selling the marketing business we grew for ten years in 2006, we traveled the country in an RV to search for the "next big thing." After a couple years on the road we discovered the best solution for creating true financial freedom is to develop diversified revenue streams and reliable residual income. More than seven years later, we continue to enjoy the benefits of a debt-free nomadic lifestyle—working from home, wherever we park it!
Now, we want to pay it forward by sharing our home based business and lifestyle design tips to help you follow your dreams and reach your own financial goals.
We are by no means retired. We are just savvy entrepreneurs who enjoy working for ourselves, and helping others learn how to do the same. We share our expertise about workamping, affiliate blogging, crafting, writing, remote employment and much more in our remote home based business e-book, Income Anywhere!
In addition to the various endeavors we discuss in the book, we also manage a team of remote marketing executives for one of the top 50 e-commerce sites.
Stop dreaming. Let us help you launch your business from anywhere!
Whether you are a full-time RVer interested in how to find the best Workamping jobs, or you just want to be your own boss, your first step toward living life on your own terms is to do your homework. We are here to help you!
The difference between a dream and a goal, is a plan.
—Dave Ramsey
Not sure where to start? Need help creating your plan to get out of debt and run your own successful business from home? Just ask!
Or, download our e-book for complete details about how we do it, with just an Internet connection and an enthusiastic entrepreneurial drive.
Debt-free RV snowbirds since 2007! Let us show you how we do it.
To make a long story short, we hit the road in 2007 thinking we would travel for a year. After two years we decided we loved living in our RV and started researching ways to help support our lifestyle. We have been on the road ever since, working from home wherever we go. Now we are helping others learn how to do the same.
Check out our our e-book, Income Anywhere! for complete details about working from home, workamping, e-commerce, blogging platforms, remote employment portals, and much more.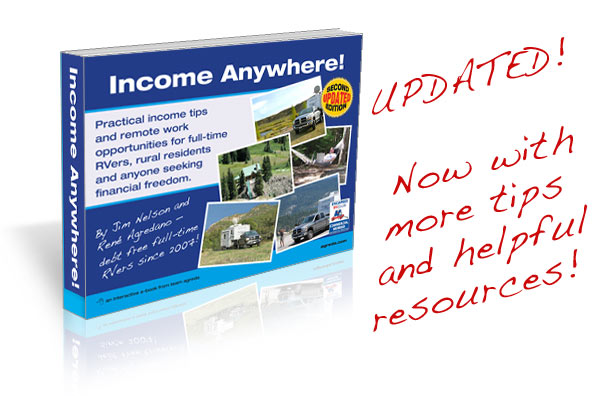 In addition to the various endeavors we discuss in the book, we have also partnered with a company that specializes in helping people work from home. After researching numerous home based businesses and discovering most of them are an MLM or downright sham, we are happy to have partnered with a company that provides legitimate revenue sharing, and we don't have to sell, stock or ship anything.
If you are sick of all the scams out there and are looking for a proven business you can build from anywhere, please contact us for complete details about our products and compensation. It's not for everybody, but you will never know until you get the facts.
Want to know how to identify legitimate home based business opportunities? Download our free sample e-book chapter which discusses tips for starting your own business, working with drop-ship manufacturers, and typical warning signs for illicit MLMs and network marketing scams.
Whether you are just looking to pay off debt, or want to make a few thousand extra dollars a month, we can help uncover the right solution for you.
If you are the entrepreneurial type, download our e-book now for advice about building a remote home based business from scratch. Learn all about what we do, and use the hundreds of links provided for finding remote employment, drop-ship manufacturers, affiliate partnerships, and much more. Use the "Share Now" button below and save more than half off!
[wdsm_ad id="724″ ]
If you have good people skills, a phone, and internet connection, consider working with our product marketing team for proven business building steps, extensive training and plenty of support. Partner with us to start your own business with no start-up costs, and no risk, and we'll send you a free copy of Income Anywhere!
We share all sorts of tips about full-time RVing, workamping, and the nomadic lifestyle in our Live Work Dream blog. From DIY maintenance tutorials and helpful book reviews to odd attractions and hidden treasures around the country, we hope you enjoy our insights about loving life on the road.
Whether you hope to hit the road someday, or you are a seasoned traveler, you might benefit from the tips and information we share in our three-part blog series about How To Prepare and Pay for the Full-time RVing Lifestyle. Check out our snowbird tour maps, and maybe we'll see you down the road.
Happy Travels!