sites
professional business blog hosting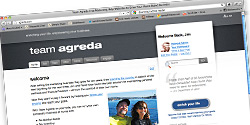 Agreda Communications hosts better business blogs built upon our WordPress multisite network. Use the familiar WordPress dashboard to manage your own simple business site or full-featured e-commerce store. Review our features and pricing plans, and see domain registration and management costs below. Contact us for details about getting started or if you need help setting up your site.
Or… join Team Agreda and we'll host your own feature-packed business site for free! Contact us for complete details.
In the meantime, check out some of the other online communities and websites we maintain…
live. work. dream.
Follow the RV snowbird adventures of Jim and René as they head south every winter in the mobile Team Agreda headquarters. Subscribe to their travel blog for updates from the road as they seek out new places,  meet interesting characters, review wellness products, and and spread the word about the company's income opportunity.
tripawds blogs community
It's better to hop on three legs than to limp on four. That's why we maintain the Tripawds three legged dog blogs and discussion forums. We created Tripawds after our dog had an amputation due to bone cancer. Now we're helping others going down the same road, and proving to the world that dogs are born with three legs and a spare.
rv travel blogs
Get your own free full-time RVing travel blog at RVBlogz.com! Tell your story and share photos from your adventure with friends and family with the easy to use WordPress blog publishing platform
free lead generation websites
http://workathomeunited.com/liveworkdream
Please contact us here for complete details if you are interested in working from home and want to learn more about joining our team of remote marketing executives and getting your own free lead generation website!
domain registration
Use the subscription button below if you have a Team Agreda business blog and want your own custom domain. You will be redirected to PayPal to complete ypur secure transaction. Please ensure your domain is available prior to subscribing. If you have registered your own domain, contact us for the DNS settings required for custom domain mapping.
NOTE: Domain registration and management is available at the costs listed per year payable via auto-renewing PayPal recurring payment. Fee includes registration of domain, DNS configuration and mapping of custom domain to your site hosted by Team Agreda. Domains registered by Agreda may be transferred to the registrar of your choice free of charge after six months of paid hosting. Transfers requested prior to six months are subject to a fee. Cancellation of subscription will result in removal of custom domain mapping, site will remain functional at subdomain selected upon registration if hosting plan is current.