During the ten years we grew our full-service marketing communications firm, we helped numerous companies meet their branding objectives on time and within budget by delivering cost effective content development, design and production solutions.
With clients ranging from small mom & pop retail stores to BASF, Jim applied his graphic expertise on a wide variety of projects, including but not limited to corporate communications and marketing collateral, retail packaging, catalogs, identity systems and display graphics.
Below is a random sampling of various graphic design projects Jim completed over the years. Click thumbnails for detail. More examples of his work are available upon request.
e-book publishing
Follow the links below for complete details about e-books we have published, including free sample chapters and download coupons. Then contact us to see how we might be able to help you with content development, editing and graphic design your e-publishing projects.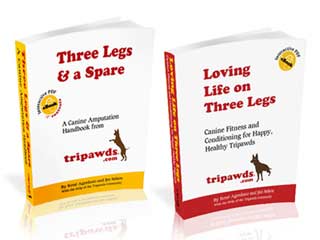 Three Legs & A Spare
Loving Life On Three Legs
Cool Tips for Tripawd Cats
Tripawds Canine Amputation Recovery & Care Handbooks
Income Anywhere
Proven Home Based Business Tips to Earn an Income from Home