Digital Product Chargeback Lessons from an e-Tailer
Chargebacks suck. Sadly, most people aren't aware that when they file a merchant "chargeback" dispute with Paypal or their credit card companies, they are pulling the trigger on a slew of hassles that waste time and money for everyone involved.
Please people, don't do this!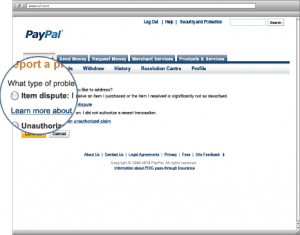 Instead of calling or emailing the merchant, a lot of people just complain to their credit card company or Paypal. But in our experience selling online, the customer is usually having an issue on their side, not the merchant's. It seems people file chargebacks for three reasons:
When they see our name on their credit card statement they don't remember buying from us and think it's an unauthorized transaction. It's crazy how many people forget what they bought online.
They use a stupid retro AOL, Hotmail or Yahoo email account that automatically spams our email order confirmations. Since they never get our emails, they assume we took their money without delivering a product.
When they buy our e-books (clearly defined as such), they wait for a package in the mail to show up. And wait. And wait. Meanwhile odds are that a person like this also has a AOL, Hotmail or Yahoo email account that spams our order confirmations. And when our e-book doesn't arrive in snail mail, they call their credit card company to complain.
How to Handle Digital Merchandise Disputes
We just learned a hard lesson about how Paypal and credit card companies handle digital merchandise disputes.  A few weeks ago, a not-so-technically-savvy customer of ours complained to her credit card company that she never received our product in the mail, despite our attempts to break the Hotmail spam guards and contact her. The credit card company told Paypal, and Paypal contacted us.
We gave Paypal what we thought was proof of purchase: email order confirmation, then left it at that. This usually resolves the dispute when you sell a tangible good.
Two weeks later Paypal contacted us again to say they're hitting us with a Chargeback fine and keeping the $24.95 for the product. We called them to find out why and here's what we learned:
If you do not have hard proof that a customer downloaded your product (for example, through download logs), you have zero protection if they file a dispute. Since our store doesn't require customers to log-in to download the product they just bought, we have no proof they went into their account and got it. This is exactly why big e-tailers like Amazon force customers to have an account with them.
Paypal does try to bat for merchants with the customer's credit card company. But without download proof, we're automatically liable. Not only does Paypal deduct the amount of the product from a merchant's account, but they'll also slap on a $20 fine.
From now on if we ever get a dispute notice for an e-product, we will first try to contact the customer with an alternate Gmail address. And if that doesn't work, we'll just refund their dang money. It's easier than wasting time dealing with Paypal and writing blog tirades like this.
Lesson learned.
More Reading: