How To Make Your Products Go Viral
Anyone selling products online faces the challenge of getting the word out. To harness the power of social networking we use the Social Marketing plugin for easy sharing of our home based business e-book to Facebook, Twitter, Google+ and LinkedIn.

More than just a social bookmarking tool, this powerful plugin allows us to easily expose value added content to anyone who shares the link to any post or page. Specifically, we created a coupon code for $5.00 off Income Anywhere! that anyone can access simply by sharing the link to the post with information about the book.
Here's an example of Social Marketing in action:
[wdsm_ad id="724″ class=" " ]
The advertisement above is automatically generated when inserting a quicktag into a post using the plugin's "Insert Social Ad" button. Click the Share Now button to see how it works. After sharing the link, users are presented with a link and coupon code that can be applied to save $5.00 off our e-book, Income Anywhere!
But this method could be used to share any value added content. Provide a password to protected content, direct readers to a secret video, give them a free download, or combine this with the Scheduled Content plugin to create a limited time offer. With a Social Marketing ad on your blog post, page or product, your readers spread the word for you!
Aside from reaching potentially millions of customers with your offer, the best thing about this plugin is its amazing simplicity. After activating the plugin there are just a few steps to start making your product go viral.
Select one of the default display settings or use your own custom CSS.
Create your ad with a title, promotional copy, URL to share and button text.
Easily insert your ad into any post or page with the new button in your content editor.
It's that simple, but you can do so much more…
Add a download button to any ad for immediately presenting users with a link to download something for free. Like this:
[wdsm_ad id="955″ class=" " ]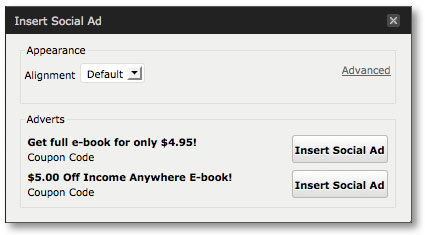 Or, include some thank you text with a product link, like we do to provide our coupon code to those who share our e-book info.
Social Marketing uses custom post types to publish advertisements. This way there are no extra tables created in your database. And with the guided three step tutorial, adding the power of Social Marketing to your blog or online storefront couldn't be easier!
Please visit WPMU Dev for complete details abut this and many more powerful WordPress plugins for making money from your home based business website.