It's Official, We're an Escapees Commercial Member
As RVers, the Escapees RV club has been a great source of support for us, and now we are proud to give something back by becoming an official Escapees Commercial Member.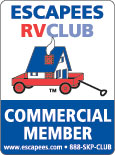 Look for us on Escapees.com and in the Travel Directory under the name of Agreda Home Business Coaching, which reflects our dedication to helping others learn how to live this fun lifestyle.
We became Escapees two years after hitting the road in 2007, and wish we had done it much soooner. Escapees handles our mail while we're on the road, gives us a place to call "home" and their members continue to be a source of inspiration for us.
When you live an unconventional RVing lifestyle, finding others who share your road tripping passion is key. Escapees Discussion Forums (free to non-members), rallies and RV parks are fun, resourceful places to be whether you're a working-age RVer or long-retired.
Funny thing is, Escapees founders, Joe and Kay Peterson, started the club back in the 1970s when they were just 43 years old and traveling with two kids. Talk about unconventional!
I love the way quirky characters flock together!
If you're an Escapee, leave a comment to let us know if you're retired or how you make money on the road.
If not, consider joining and tell them you were referred by SKP #103274! Then contact us to find out how we support our snowbird lifestyle.