How To Not Get Scammed In A Home Based Business
While updating our Income Anywhere! e-book with more helpful resources for starting a home based business, we stumbled upon an interesting book that should help anyone decide what business is right for them. Or more importantly, which home based businesses we should all steer clear of.
Learn how to find legitimate work at home businesses and random jobs in a scamming economy.
Bethany Mooradian is the "Queen of the Random Job". In this resourceful book she shares the hard lessons she's learned during this tough economy with more than 300 helpful home based business ideas, and information about legitimate companies that can help you bridge the income gap. As an internet marketing expert, she reveals the most common tricks of online scammers and MLM schemers. With plenty of resources for researching companies and job offers, Mooradian makes sure so you will never have to ask, "Is this job for real?"
Take a behind-the-scenes look at Internet marketing to learn common techniques of scammers and essential tips for anyone who uses the Web and email. Review more than 180 companies, ideas, and resources to create your own business or side income based on your talents and skills. Discover 140 legitimate companies that offer flexible work environments, or hire at-home-workers.
It is concise, to the point, and contains a wealth of information – from how to understand and grasp the vocabulary and use of internet marketing, to what to look for when navigating the pros and cons of starting your own business… Read All Reviews
A must-read for non-entrepreneurs I Got Scammed can help anyone develop a new mindset about the joy of small business ownership or working from home. Brainstorming, resources, marketing tips, as well as over 100 mini-franchise opportunities are also included.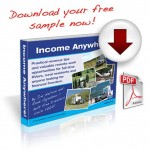 For more helpful tips about how to identify the warning signs of common home based business scams and schemes, download the Free Sample Chapter of our e-book that discusses how to identify legitimate revenue sharing businesses.
Or, contact us today for a free consultation with complete details about the smartest business decision we've ever made about a proven model that offers reliable income with absolutely no risk.