Social Networking for Workampers
We have written about the various workamping jobs we have enjoyed over the years in our RV lifestlye blog. But from a business standpoint, there are a few resources workampers can use to harness the power of social networking and find the best jobs or share their experiences.
Subscribe to Workamper News. Get Free Issue and Much More!
To find the best workamping jobs, we have always turned to Workamper News. We strongly encourage anyone considering workamping to check out this this resource first to take advantage of their discussion forums, resume builder, and Workamper Store full of helpful books, DVDs and more.
As Workamper Concierge members, we are happy to offer a free issue to any new subscriber with Workamper News Promo Code: AGRE6207.
Join the Professional Discussion about Workamping.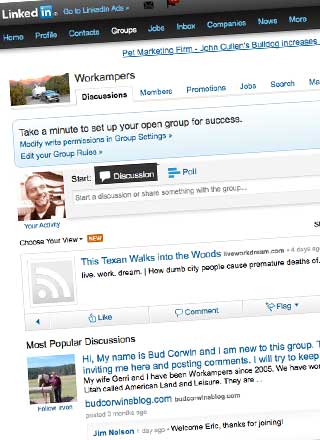 I started the LinkedIn Workampers Group when we first started workamping in 2007 as a way to introduce the lifestyle to other RVers.
The Workampers Group is intended to facilitate networking of RVers looking for workamping opportunities with campground and resort owners looking for seasonal help.
RVers are encouraged to start discussions to introduce themselves, describing talents, desired travel region, and availability. Resort owners can post workamper openings in the Jobs section with complete details about location, duties, amenities and requirements. The Promotions section is reserved for posting items of promotional interest to RVers and/or campground owners.
Meet Other Workampers on Facebook
I've discovered that the Nomadic Gigs group is great for connecting with other location independent entrepreneurs on Facebook. Just recently a few members were discussing sugar beet harvest jobs and seasonal work at Amazon.
But when searching for a specific group for workampers to discuss opportunities and share horror stories, I couldn't find one. So I created the Workampers Facebook Group. Drop by to learn from others or share your workamping expertise!