How To Host Your Own Paid Blogging Network
As we finalize the development of our infrastructure to host better business blogs for you here at Team Agreda, I thought I'd share how you can host your own paid WordPress blog network.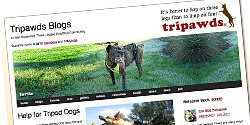 One of the many methods for earning an income online that we use ourselves – and discuss in our home based business e-book – is utilizing the WordPress multisite network functionality to host free blogs.
Yes, free. For our rather niche market of three legged dog lovers at Tripawds, we follow the Freemium business model.
Why We Offer Free Tripawds Blogs
Our mission at Tripawds is to provide a platform for the discussion of canine cancer and amputation for dogs. The community we have grown is a labor of love, not a business venture. But by offering free three legged dog blogs to our members, we are fulfilling our mission while developing loyalty and trust that any paid upgrades we offer will be worth the expense.
After all, hosting a WordPress network is not cheap. And for those who wish to contribute financially to our user-supported community in exchange for enhanced blog features, we make it simple.
How We Automate Premium Blog Subcriptions
The same method we use to offer premium blog features can be applied to any niche network or commercial WordPress hosting enterprise. With the Pro Sites plugin from WPMU Dev, we are able to automate the process of site registration, upgrades, ad removal, plugin activation and much more. Whether or not you offer basic blogs for free, Pro Sites can be used to create subscription plans for various levels of enhanced functionality.
The plugin includes various modules for easily charging network users to access enhanced functionality for their sites. Below are just a few that we use. See the full list of Pro Sites plugin features for more.
Advertising – Disable ads for a Pro Site level, or give a Pro Site level the ability to disable ads on other sites throughout your network.
Premium Plugins – Create packages of specific plugins only available to selected Pro Site levels.
Premium Themes – Enable selected themes only to be used for a certain Pro Site level.
Premium Support – Provide a premium direct to email support page for selected Pro Site levels.
Upload Quota – Automatically increase the upload space quota for Pro Sites.
See Pro Sites in action with this brief overview video
or check out all the features here.
The best thing about Pro Sites is its ease of use. For being so massively configurable, it really was quite simple to set up. After upload and network-activation of the plugin, configuration is as easy as:
Specify your account levels and fees.
Enable the modules you wish to use for the different levels you offer.
Select your payment gateway.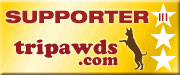 A number of other settings are available for customizing notification emails, creating coupon codes or re-branding Pro Sites to whatever you wish. We use "Supporter" since our network is a user supported community, and that's what the plugin was originally called.
Technically, any site created on a WordPress multisite network is free. So if you don't want to use the freemium method, you can enable the Pay To Blog module. If you just plan to offer one level of functionality for all sites you host, then the Pay To Blog plugin may be all you need.
Once configured, users are presented with a stylish table presenting all Pro Sites subscription levels. You have the option to show this upon site creation, and it is always available from the upgrade button in each user's dashboard.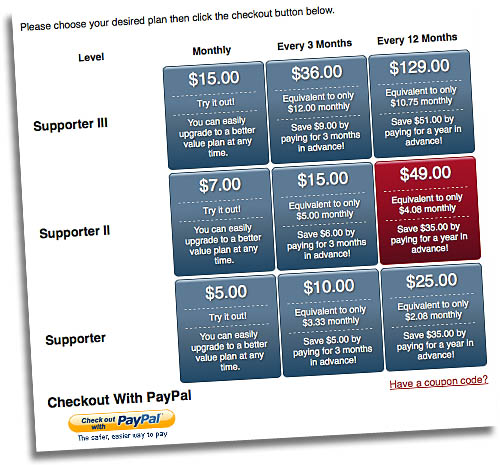 The latest version of Pro Sites even includes simple Google Analytics ecommerce tracking, and it just keeps getting better. So check out Pro Sites today if you're looking for an easy and effective way to make money with your WordPress blog network. The help you'll find from developers in the support forums can't be beat. Just another reason I'm a happy WPMU Dev member!